DO YOU SUSPECT YOUR DORM ROOM IS "BUGGED" AND YOU ARE BEING WATCHED OR LISTENED TO?
Contact Us Now at 888-808-4802 For Free Instant Quote
Our professional TSCM Dorm Room Bug Sweep will find hidden cameras most often found in dorms. Unfortunately, some young men and women think it's humerus to secretly record sexual encounters. You must then ask yourself, who is going to be watching these video?
Unsuspecting students can become the unwilling targets of unscrupulous immature individuals. Are these videos then being uploaded to the Internet. Roommates can also be culprits in voyeurism and potential blackmail.
Our bug sweeping company can sweep your child's dorm room in a very discreet manner. We provide door room bug sweeps in schools nationwide. Our bug sweepers can detect Hidden Cameras, Audio Devices, GPS Trackers in cars and even more.
Conducting a Dorm Room Bug Sweep is one of our unique specialties. Our TSCM technicians using the latest in electronic bug detection technology. You can trust our sweep experts to find and remove hidden video and audio eavesdropping devices.
Call 888-808-4802 now to speak with an experienced TSCM technician who can answer your all questions and provide you with recommendations. Let us help assure your privacy and provide you with the peace of mind you deserve.
Is a Dorm Room Bug Sweep necessary?
Is your son or daughter being watched or video recorded while in their dorm room? Hidden cameras are being sold for less than $100 on the Internet with the lens as small as this o circle!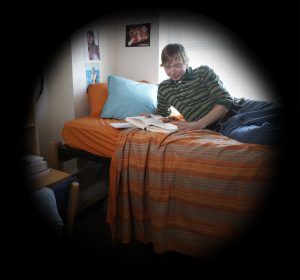 There have been several news stories where both boys and girls have been covertly video recorded , either during sexual encounters, or just in various stages of undress. These videos are then uploaded to the "dark web" and sexual related underground websites where pedophiles, sexual deviants, and blackmailers will post the video.
Our Team of Professionals can Conduct a Dorm Room Bug Sweep Discreetly.
There is no way the average person can detect a hidden camera without special equipment and training. You could actually be starring directly into a covert camera and not even know it's a video camera. The video can then either be recorded or streamed live onto the Internet cloud.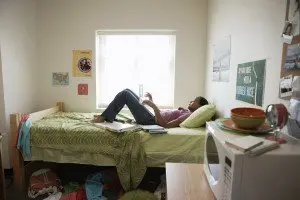 Bug Sweep Dorm RoomOur technicians are trained to physically and electronically inspect dorm rooms, top to bottom, for hidden cameras that can either be on or off, wired or wireless. Once the sweep is complete, we can also teach your student what to look for. By ensuring, they don't become the star of a very embarrassing movie.
Your child or student's privacy is crucial and should never be compromised. Stop guessing and call us right now to discuss your situation and receive a price quote.